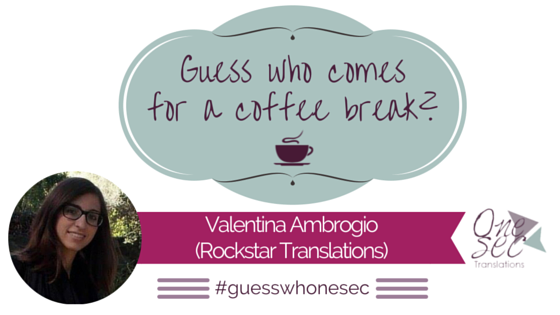 Hello, Valentina!
As I announced last week, and reiterated yesterday, today we are here to launch this brand new series about freelancers and professionals working in the world of languages and its related fields.
First of all, thank you so much for accepting my invitation. It has been a pleasure getting to know you over the past year through the Internet. Although we met in person only three days ago (not joking, we met at the Italian event "Giornata del Traduttore"), I feel like I have known you forever and I consider you a good friend. 💜
Here you are! This is your lactose-free latte. If it is ok with you, I am going to ask you some questions about yourself ranging from daily life to something more personal. I will share it on two different appointments. This is the first part.
Can we start?
3… 2… 1… Ready? Go.

• What's your full name?
▷ Valentina Ambrogio – that's it! But my mom has given me many nicknames over the years, such as Valeria, Valery (said in French), Tabellina (meaning "little table" – I was good at math, hence the nickname), and many others.
• What do you do for a living?
▷ Freelance Audiovisual Translator and Localiser.
• When is your birthday?
▷ April 4th (4 is my lucky number, of course).
• How tall are you? (*This question is dedicated to a colleague*)
▷ 165 cm, I think. And I guess Chiara is talking about me. Why? Because when I talk to people online and then I have the chance to meet them in real life, I always picture them as being much taller than I am. So, when Chiara attended IAPTI 2015 in Bordeaux, my first question was 'Are you having fun?', and then 'How tall is everyone? Take a picture!'
• Zodiac – what's your sign?
▷ Fiery Aries.
• Where do you live?
▷ I live in Rome now, but I was born and raised in Reggio Calabria, southern Italy.
• What's your favourite colour?
▷ Black.
• When you were young what would you like to become when you grow up?
▷ A manager or anything involving the English language.

• Coffee or tea?
▷ Neither. Milk + coffee is my thing; as for tea, I can't stand the smell.
• Day or night?
▷ Early mornings.
• Sea or mountain?
▷ Both 😊 But walking in the woods makes me feel a little bit more connected to nature.
• Early bird or namastay in bed?
▷ Early bird.
• Have you ever played an instrument? If yes, which one? If no, have you got a favourite instrument or would you like to learn how to play one?
▷ I can play guitar, but I'm no pro, still have to learn a lot. I have always wanted to learn how to play the piano, but I never got around to doing so.
• What's an absolute must when you go out or travel? (Something you wouldn't ever leave at home)
▷ A plan. I need to know what to do and in which order, even if it's just a visit to the museum.
• Favourite food
▷ Dark chocolate.
• Do you like cooking? If yes, what's your specialty?
▷ I enjoy cooking, but let's just say I would never win MasterChef. I don't think I have any specialty. I can bake simple cakes and they usually taste good, does this count?
• Sneakers or heels?
▷ Heels? You spelled it wrong. It's HELLS! Nope, nope, nope. My feet are good where they are, touching the ground.
• Sporty or lazybones?
▷ Does watching soccer games count? Then, I am sporty 😜
• If you like them, which is your favourite board game?
▷ I like them, but I don't have a favourite one.
• What's your favourite book and the last one you read/you're reading?
▷ Basically anything by J. K. Rowling and Les Fleurs du Mal. Now I'm reading It's not me, it's you by Jon Richardson.

• Do you consider yourself a geek?
▷ I'd say I fall into this spectrum.
• Pc or Mac?
▷ I am a PC owner, but I wouldn't mind having a Mac. I love my iPhone and Apple products in general – so sleek!
• If you have a smartphone, Android, iOS, or Windows?
▷ iOS. My iPhone understands me.
• If you use social media, which is your favourite one?
▷ Facebook, as it allows to show who you are on different levels.
• Are you a gamer?
▷ Yes (PlayStation).
• If yes, what's your favourite video game of all time?
▷ Crash Team Racing for PS One. Yes, not the best title of all times, but I had the time of my life playing it with my brother when we were little. It has a special meaning.
Well, time is up for today!  Stay tuned and wait until tomorrow to read the rest of the interview ! 😉
If you enjoyed the first part of the chat, share it on social media using the hashtag #guesswhonesec and leave a comment.
If you want to take part in the series, just drop me a line.
~Cee
---
Who's Valentina? ▷ Valentina is a freelance English to Italian audiovisual translator and localiser based in Rome. In 2013 she founded Rockstar Translations and in 2014 started her blog "The Translation Cauldron". Anglophile, Potterhead, Whovian and hopeless TV-series addict. You can find her on Facebook, Twitter, LinkedIn and Instagram.