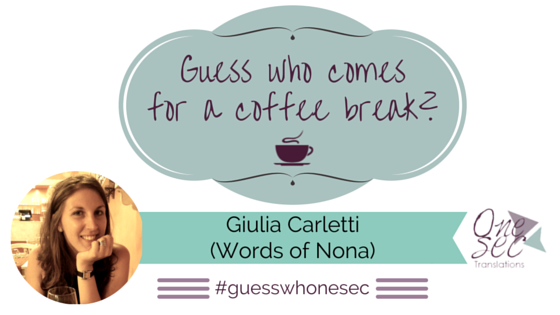 Welcome, Giulia!
How are you? You were sneezing last time I saw you. That was also the first time, right? In fact, we met at the #GdTrad in Pisa two weeks ago. 💜 I hope that you are feeling good today!
I prepared for you a cup of hot water so that you can leave your earl grey tea bag to infuse and have your warming up, relaxing cuddle ready to drink while we speak.
Thank you so much for saving a little time to spend your coffee break with us. It is a pleasure for me to have you here! I am thrilled, because you have already given me some hints about your interview and I enjoyed your answers as they are undoubtedly smart and funny – exactly as much as you are.
Good, let our readers try this out for themselves. 😉 Are you ready, Giulia?
This time, I pass over the IT part. Therefore, today, Giulia, you are going to answer some questions about yourself, your daily life, habits and hobbies. Then, we jump to the "Let's play with words" section.
Is it ok with you? You are nodding and you have just taken your cup, so… let's go!

• What's your full name?
▷ The name on my document is Giulia, although another name was also used at my christening, Claudia. I like how they sound together, but I'm glad I don't have to sign with both!
• What do you do for a living?
▷ I am a translator, conference interpreter, copywriter and I also work in social media management. Occasionally, I am a language trainer, too: never a dull day!
• When is your birthday? I don't want you to feel uncomfortable with this question, so if you like I just would like to know your birth month or at least your birth season…
▷ 14th July – Bastille Day, everyone says that! 😊
• How tall are you? 
▷ Not sure if that would be interesting for anyone, but I'm 1.75 m. (Valentina is for sure!)
• Zodiac – what's your sign?
▷ I'm a Cancer and I totally identify with the traits of this sign: complex, family oriented, stubborn, overly sympathetic.
• Where do you live?
▷ I currently live in wonderful Rome after having spent almost 3 years in London, but I am planning my move to Milan sometime this year – hopefully soon! I also lived 9 months in Madrid during my Erasmus (those were the days!) and a couple of months near Dublin while working as an au-pair.
• What's your favourite colour?
▷ I don't have a favourite colour, but I do have a penchant for all shades of blue and for bright red.
• When you were young what would you like to become when you grow up?
▷ I changed many career ideas while growing up (ballerina, writer, journalist, surgeon, singer – you name it!) but when I was 14 I decided I wanted to be a conference interpreter, so I can say I'm living the dream!
• Do you like animals? Have you got any pets?
▷ I never had any pet, but as soon as I'll move to Milan I'm planning to adopt a kitten. Cannot wait! Also, random fact: my favourite animal is the giraffe.


• Coffee or tea?
▷ I love both with passion! I cannot function without coffee in the morning or after lunch, but tea is my go-to drink when I'm feeling stressed, ill or whenever I need some comfort, so I'd say tea.
• Day or night?
▷ I'm a trillion times more productive (and active) during the day.
• Sea or mountain?
▷ This past summer I went to the seaside for the first time in three years, and feeling the sun and the salt on my skin was wonderful! So sea it is.
• Early bird or namastay in bed?
▷ Not crazy early, but since I'm way more productive in the morning, I prefer waking up at a decent time. I'm not crazy over sleeping, I feel like I'm wasting the day.
• Have you ever played an instrument? If yes, which one? If no, have you got a favourite instrument or would you like to learn how to play one?
▷ I took guitar lessons for a long time when I was young, and although I wasn't great at it, I really enjoyed playing it.
• What's an absolute must when you go out or travel? (Something you wouldn't ever leave at home)
▷ Sad but true: my smartphone (and charger), a piece of paper and a pen.
• Favourite food
▷ Pizza, and puddings in general! I love eating all kind of vegetables and pulses (you cannot imagine how happy does a salad make me!), but pizza is the food I miss the most if I don't have it for some time.
• Do you like cooking? If yes, what's your specialty?
▷ I absolutely adore cooking, as long as I can share the result with someone, because I don't like cooking for myself. I particularly enjoy baking bread (or anything that needs kneading and proofing!) and preparing puddings – all my teeth are sweet. 😊
• Sneakers or heels?
▷ Sneakers (or boots) all the way!
• Sporty or lazybones?
▷ I wouldn't say I am sporty or active by nature, but I know my body needs moving. When I start with a sport I enjoy, be it tennis or pilates, I am extremely committed and I try to be as disciplined as possible.
• What's your favourite book and the last one you read/you're reading?
▷ There's maybe too many to mention, but my favourite book is maybe Inés of my soul by Isabel Allende – I love that woman! I am currently reading Cooked: a Natural History of Transformation by Micheal Pollan (love him, too!).

• If you are not doing it already, which language would you like to learn?
▷ I started studying Portuguese and Greek, and I'd love to have the time the learn them properly. And French and German, too!
• Favourite idiom
▷ In spite of hosting a series of web posts about idioms, I don't have a favourite one!
• Have you got a motto?
▷ The motto I try to live by is "Live what you love"- there's no point in doing something that is not true to yourself, and there's no point in living a life without emotions.
• Does your name have any special meaning?
▷ As far as I know, Giulia comes from the Latin Iulia, the name of a famous Roman gens which also means "sacred to Jupiter". Pretty important, hey!
Yes, it is! Even your name reflects your sparkling personality. It is truly awesome! I didn't know that. ☺
Well, I can see that your cup is empty. This means we are done for today. Thank you so much for your time, Giulia!
But, don't run away, because will be together again in two days! 😉
Dear readers, join us on Thursday for the second part of the interview!
If you enjoyed the first part of the chat, share it on social media using the hashtag #guesswhonesec and leave a comment.
If you want to take part in the series, just drop me a line.
~Cee
---
Who's Giulia? ▷ Giulia is Italian. She is a 28-years-old EN/ES>IT conference interpreter and translator specialised in marketing, tourism and the food industry, as well as healthcare. Enthusiast copywriter for travel and lifestyle blogs and websites. Rational dreamer, storyteller, creative wordsmith and tea drinker. If you want to contact her, you can find her on Facebook, Twitter, and LinkedIn. You can also visit her website and blog.