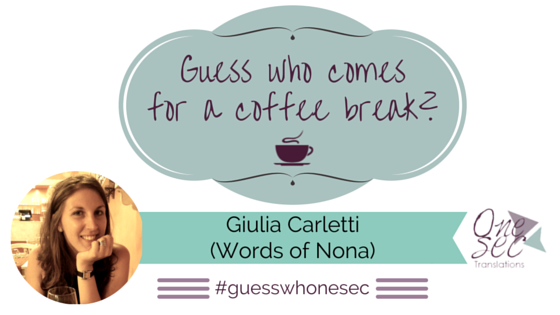 Welcome back, readers from all over the world!
I am glad to have you here in this sunny Thursday. 😊
Giulia has come back to entertain us with her joyful answers. Today, we are going to talk about music, cinema, personal experience and expectations.  If you want to refresh your memory, read the first part of the interview here.
On Tuesday, Giulia told us she likes earl grey tea. Here you are, your cup is ready. ☕ I noticed many people engaged with you on social media after you shared your habits and hobbies. I hope that they also will enjoy today's batch of questions.
Let's start!

• Favourite genre of music? Name your favourite singer or band
▷ I'd go with Indie rock/pop; although I do love many genres and artists, my favourites are Coldplay and Alanis Morissette (although I am not crazy about her latest works, she'll always be special to me).
• Best concert ever you participate in. Name the band/singer and the place.
▷ Paul McCartney. with the Coliseum as a backdrop – the atmosphere was magic and he is a legend. I don't think I'll be able to experience something similar again.
• Can you share a song that is important for you?
▷ I change favourite songs depending on my mood and I am sentimentally attached to many songs and lyrics, but "Everything" by Alanis Morissette sums me up well – I am one thing and the whole opposite at the same time.
• Favourite film – if you have one
▷ I watched it recently and in spite of knowing it by heart, I cried my eyes out as always, so it has to be Forrest Gump.
• Celebrity crush
▷ Paolo Nutini. I love his voice, his wit and his intensity. And he's so cute!
• If you were a Disney character, which one would it be?
▷ I would love to say I'm a beautiful, brave princess who saves the world, but I'm probably a mix of: a. Mary Poppins, because she's strict and fun at the same time, and she's a wanderer; b. Marie from the Aristocats, because she's a bit clumsy and whingy but her big blue eyes are irresistible (I try to pull out my most adorable glance with friends and family if I need something) and c., Goofy, because I am, well, goofy!
• Do you like musicals? If yes, which is your favourite one?
▷ I ADORE musicals. Apart from Disney movies, my favourite has to be Evita. I've seen it last year live in London and it was sensational!.

• Have you got anyone inspiring you? If yes, who is your role model?
▷ My biggest inspiration comes from Rafael Nadal, the tennis player. He's such a hard-working, talented and humble guy with a killer mentality; Rafa has inspired me for the past 10 years because he's had so many injuries and negative things happening to him, but he's always recovered, and he always manages to be graceful in every situation.
• Describe yourself in 3 words
▷ Tough call! The most accurate adjectives to describe me would probably be stubborn (incredibly stubborn), funny (in a self deprecating way) and a cuddle-loving.
• If you could leave right now, where would you like to travel?
▷ My dream is to visit Chile, but unfortunately earthquakes don't make it the place to be at the moment; if I should pack right now, it'd be for Mexico – but anywhere in Central or South America would do, really.
• Write something about yourself you are truly proud of
▷ I knew I wanted to be a conference interpreter, so before I even started my BA, my uncle set up a meeting with two AIIC interpreters he knows, so they could explain to me what the job was really about. They kept on discouraging me, saying it would be too difficult, that the market was saturated, that you needed to be really good… I was really disheartened. Fast forward to three years later, one of the two was my EN>IT simultaneous interpreting teacher, but she didn't realise she had already met me; I loved her lessons and although she was very strict, I learned tons from her. On the day of the exam, she told me "Are you the girl I met some time ago? I am sorry I tried to dissuade you from pursuing this career. You're really talented and you're cut out for this job". A part from the compliment, I was really proud of myself for not giving up in pursuing my dream. I had and still have a long way to go, but that really boosted my confidence; by the way, no hard feelings for what they had said to me, they have been very helpful and nice to me whenever I needed any advice.
• Give an advice to your younger self
▷ 1. It will be crazy and you'll feel overwhelmed, but you can do this! 2. Don't study Russian! Pick another language, instead. (No offence to Russian speakers: I loved the language, but mastering it needed more time than I could invest, and had I chosen a less challenging language, I would have probably gotten better results).
• Where would you like to live?
▷ I'm open to new adventures, and I don't discard the possibility of living abroad again in the future, but at the moment I would love to live in the same city as my boyfriend (I told you a was a cuddler, right?).
• If you were on a desert island, what would you bring with you? Name three things and say why you would picked them.
▷ It would be my phone, pad and pen and chocolate – they're probably useless on a desert island, but I would feel lost without them.
Awww… chocolate! I agree with that! 😉🍫 She's a real cuddler, don't you think? Isn't she lovely?
I've had a blast talking to you, Giulia. Thank you very much for accepting my invitation and sharing with us part of your life and thoughts. You always look on the bright side of any situation, and you are a very strong woman. It has been a pleasure having you here. I met you only two weeks ago, but I do think you are special and supportive. I am sure our readers think just the same as I do. Please, come back anytime soon.
If you enjoyed the second part of the interview, share it on social media using the hashtag #guesswhonesec and leave a comment.
Want to take part in the series? Just drop me a line and I will invite you to join me for a coffee.
Who's the next  guest to be on the "Guess who comes" series?
Let's find out next Tuesday.
~Cee
---
Who's Giulia? ▷ Giulia is Italian. She is a 28-years-old EN/ES>IT conference interpreter and translator specialised in marketing, tourism and the food industry, as well as healthcare. Enthusiast copywriter for travel and lifestyle blogs and websites. Rational dreamer, storyteller, creative wordsmith and tea drinker. If you want to contact her, you can find her on Facebook, Twitter, and LinkedIn. You can also visit her website and blog.