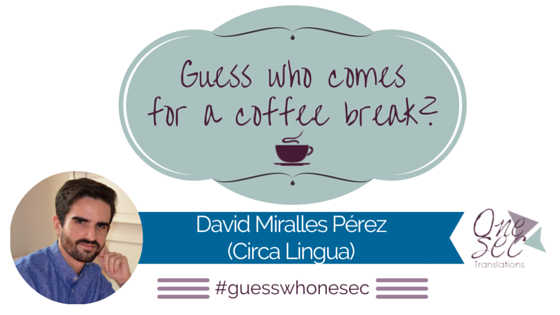 Happy Tuesday, readers!
I am so glad you are here, today! Let me introduce my e-friend and colleague David to you!
Hi, David! Welcome to my coffeece!
Thank you for coming, it is a real pleasure to finally e-meet you. We have been speaking online for a while now, and I am excited about having you here as my guest. Especially because you are the first MAN taking part in the series! You are a pioneer! 😊
First of all, here you are – your coffee with no sugar and a bit of milk. ☕
Secondly, let me explain you what we are going to do: I am going to ask you six sets plus a Bonus Qs section of questions covering your profile as a human being and a very kind and bright soul. (That's exactly what I think about you!) Today, you are going to answer the firts three sets, then on Thursday the remainder of them.
We are going to discover more about your true self and what lies behind the professional.
I am sure it will be an amazing ride, I can't wait, so don't waste another minute… let's start! 😀😊
Ready? Go!

• What's your full name?
▷ My full name is David Miralles Pérez. I have no second name, but I do have two surnames!
• What do you do for a living?
▷ I'm working full-time as a translator and interpreter specialised in law, economy, business and marketing. I'm also studying my masters in translating and interpreting at Heriot Watt. (I study part-time, thank god, otherwise I wouldn't be able to make it!)
• When is your birthday? I don't want you to feel uncomfortable with this question, so if you like I just would like to know your birth month or at least your birth season…
▷ The 22nd January. Almost there again!
• How tall are you? (*We all know who is taking notes…*)
▷ I'm 1,72m tall. Nothing too impressive, eh? Haha. [ **As the saying goes, "the best things come in small packages!"** ]
• Zodiac – what's your sign?
▷ I'm Aquarius. Witty and clever, I've been told! 😊
• Where do you live?
▷ I'm originally from Alicante, Spain. Once I finished my undergrad I moved to Caen, France to improve my French for a year. Then, I decided to move to Edinburgh to study my masters and where I'm currently based. I've fallen in love with this city since the very first moment, so I'll be living here for a while for sure. ☺ [ **I would love to visit the city! You know, I told you so scrolling down the amazing pictures you usually take!** ]
• What's your favourite colour?
▷ Blue! The perks of having lived close to the sea during my whole life!
• When you were young what would you like to become when you grow up?
▷ So many things, it's crazy! Haha. When I was very little I wanted to become a painter. I spent my days painting everything! Then I move on and wanted to become a teacher because I was very fond of my teachers at my nursery. Later on I discover English and loved to learn a new languages, so decided that I wanted to become an English teacher. But during high school, I thought that what I liked is to do practical things with the languages that I was learning instead of studying literature (which I love, but not as a career). This is how I discover the degree in translation and interpreting and didn't hesitate to go for it!.
• Do you like animals? Have you got any pets?
▷ I absolutely love animals. The thing is that I was allergic when I was little so I never had a pet. However, now I share a flat with a flatmate and two cats of her, which I adore!


• Coffee or tea?
▷ Both! And loads of them all! Haha. If I had to choose, then I think I'd opt for coffee. With no sugar and a bit of milk, please!
 😊
• Day or night?
▷ I'm really making an effort to be a day person. But deep inside me, I must admit that I'm  night owl!
• Sea or mountain?
▷ Sea! I've been living close to the sea during my whole life and it's one of the things I appreciate the most. But I love hiking, so I do like the odd mountain every now an then. (Especially since I moved to Scotland!).
• Early bird or namastay in bed?
▷ Again, I try to be an early bird. Although I'm doing some progress, sometimes I have to admit that my bed is simply too comfy. 😉
• Have you ever played an instrument? If yes, which one? If no, have you got a favourite instrument or would you like to learn how to play one?
▷ No, not really. And it's something that I regret because I've always wanted to play the violin. Maybe one day when I've got more time, I'll start learning how to play it!
• What's an absolute must when you go out or travel? (Something you wouldn't ever leave at home)
▷ My camera! I love photography and when I'm travelling, my camera is like my wee baby! And I must confess that I can't leave home without my iPhone. It may seem a bit sad, I know, but when you're running your own business, everything needs to be under control, and when I'm out of the office, my iPhone is a lifesaver for this purpose!
• Favourite food
▷ You're going to love this, Chiara! Italian food is absolutely the best! I eat a lot of pasta and I'm of the opinion that it's never too much! When I went to Italy and went for my first aperitivo, I discover a new whole world of possibilities. Hahaha. I also love Greek food and I'm starting to be a bit addicted to Indian food as well!
• Do you like cooking? If yes, what's your specialty?
▷ I like cooking and I've been cooking for myself since I was 18 and I'm still alive, so that must be a good sign! Haha. I especially like baking. One of my specialties is tiramisu. I've been told that my moussaka isn't bad at all either!
• Clean-shaven, stubble, mustache or beard?
▷Stubble! 
• Sporty or lazybones?
▷ Sporty when work and uni give me a break. I've been always gone to the gym. Now I don't have the time to do it, but I'll join one as soon as I'm done with uni. I miss it!
• If you like them, which is your favourite board game?
▷ Monopoly! No one can beat me! Haha.
• What's your favourite book and the last one you read/you're reading?
▷ I've got a few favourite ones. If I have to choose one, I'd probably say The Pillars of the Earth. Right now, I'm reading the Boron Letters. It's a business kinda reading. Very interesting for copywriters! 😉 [ **Thanks for the hint!** ]

• Do you consider yourself a geek?
▷ I wouldn't say I'm a geek, although I've been told otherwise! 😜
• Pc or Mac?
▷ Both! If you make me choose, I'd go for Mac without any doubt. 😊
• If you have a smartphone, Android, iOS, or Windows?
▷ iOS! ❤
• If you use social media, which is your favourite one?
▷ Only one? Haha. Twitter and Facebook page for professional purposes. Instagram and Facebook for my personal life. Recently addicted to Snapchat and VSCO. [ ** I would have reacted like that as well! ** ]
• Are you a gamer?
▷ I used to be. But it was something that I sacrificed when I left highschool.
• If yes, what's your favourite video game of all time?
▷ Without any doubt, Final Fantasy. All of them, especially VIII.
You are such a funny, smart guy, David! I knew it! Hahaha Thank you, your lively personality pops out of your words and I would love to chat with you for a little while more, but out time is up for today! Don't worry, this is your week, so… Hold on, we will be back on Thursday!
Follow me and David to see what happens outside my coffeece! 😉
If you enjoyed the first part of the chat, share it on social media using the hashtag #guesswhonesec and leave a comment.
If you want to take part in the series, just drop me a line.
~Cee
---
Who's David? ▷ David is an entrepreneur soul with a passion for businesses and their development through linguistic services. Sworn Translator and Interpreter (ES, EN, CA, FR), copywriter and aspiring graphic designer. You can find him in a corner reading a book or on his website (Circa Lingua), on social media (Twitter, Facebook, Instagram) or on Google + and LinkedIn,