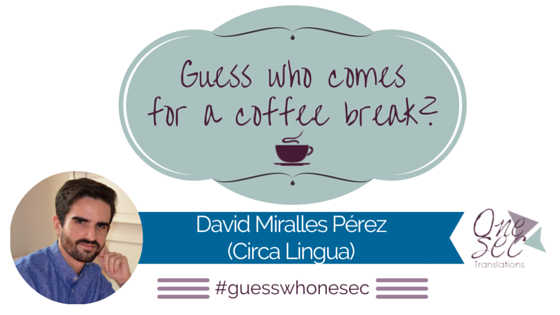 Welcome back, friends, followers and lovely colleagues!
It's sunny today! What's the weather like where you are? Thank you for saving a little time to stop by and spending your coffee break with us. 😊
Yup, David has just come and has just taken a sit on the comfy sofa in my coffeece. I am sure you are willing to know more about the first man taking part in my series.
In case you missed the first part of the interview with David, you can find it here.
David, your coffee with no sugar and a bit of milk is ready. Just brewed, only for you! ☕
Everything's ok. Let's start!

• If you are not doing it already, which language would you like to learn?
▷ Swedish is next in my list. I've already learnt some Swedish, but I'll devote more time to it next year for sure.
• Favourite idiom
▷ English! I'm also very proud of  my Catalan, I must say. 😊
• Have you got a motto?
▷ Carpe diem! ☺

• Favourite genre of music? Name your favourite singer or band
▷ I love indie music. I've got a lot of favourite bands: Imagine Dragons, Daughter, The Arctic Monkeys, Of Monsters and Men, Coldplay… And the list goes on and on. 😊 [ **It's amazing! This could be a me-answer!** ]
• Best concert ever you participate in. Name the band/singer and the place.
▷ Florence and the Machine in London. I absolutely loved it! [ **And I absolutely envy you right now! But… I will see Florence in Bologna in April, so we could talk about it and share opinions next year!** ]
• Can you share a song that is important for you?
▷ Forever young.
• Favourite tv series – if you have one
▷ My favourite tv series ever are Friends, Lost and Sex and the City!
• Favourite film – if you have one
▷ My favorite directors are Lars Von Trier and Mike Cahill. Melancholia and Another Earth, respectively.
• Favourite actor and actress
▷ Charlotte Gainsbourg.
• Celebrity crush
▷ Gaspard Ulliel & Eddie Redmayne. 😃
• If you were a Disney character, which one would it be?
▷ Peter Pan!
• Do you like musicals? If yes, which is your favourite one?
▷ Cats and the Lion King.

• Have you got anyone inspiring you? If yes, who is your role model?
▷ I've got different people that have inspired my in different moments of my life. The life of Truffaut, French director, has always inspired me and helped to believe in what you love the most.
• Describe yourself in 3 words
▷ Dreamer, creative and determined.
• If you could leave right now, where would you like to travel?
▷ Denmark, Iceland and Norway are next in my list. 😉
• Write something about yourself you are truly proud of
▷ I'm proud of having created my own business from scratch at the age of 22, thanks to which I've been able to live in three different countries in two years and be more independent.
• Give an advice to your younger self
▷ Don't let people tell you what to do. Take every piece of advice, but act exactly as your heart tells you to.
• Have you got any tattoos? If yes, has it/have they any meaning?
▷ I've got two. An infinity because my mum always tells me that there are no limits, only the ones that you put to yourself, and an anchor that I got just before coming to Scotland and kind of symbolizes my origins, as I live in the east coast of Spain. I knew that I was going to be living for a while in the UK so it was a reminder that I should never forget where I'm coming from and my origins.
• Where would you like to live?
▷ I like the UK. I am happy here for now and Edinburgh is a gorgeous city. But I go with the flow. We'll see where I'll end up.

• If you could meet an important/famous person, who would he/she be?
▷ Emma Watson. I've been following her lately and love her new initiative. I really admire her.
• What would you ask him/her?
▷ I would talk to her about HeForShe. Because we men can also be feminist and I'm very interested about the actions she's taking.
What an amazing ride, David! It has been a revelation and a big pleasure to get to know you deeply. I am so happy to have found a sensitive, proactive soul like you! Your energy inspires me, and I am sure you will get the best out of every project and idea you will shape up. Actually, you [absolutely perfect] taste in music did the final trick! LOL We are music-twins! Hahahaha We should go to a concert together sooner or later! It would be fun, I am sure! 😊
By the way, thank you so much for accepting my invitation and sharing with me and our readers more information about yourself. I hope that you had fun just as much as I did! Please, feel free to come back anytime. Mi casa es tu casa. ☺
If you enjoyed the second part of the interview, share it on social media using the hashtag #guesswhonesec and leave a comment.
Want to take part in the series? Just drop me a line and I will invite you to join me for a coffee.
Who's the next  guest to be on the "Guess who comes" series?
Let's find out next Tuesday.
~Cee
---
Who's David? ▷ David is an entrepreneur soul with a passion for businesses and their development through linguistic services. Sworn Translator and Interpreter (ES, EN, CA, FR), copywriter and aspiring graphic designer. You can find him in a corner reading a book or on his website (Circa Lingua), on social media (Twitter, Facebook, Instagram) or on Google + and LinkedIn,