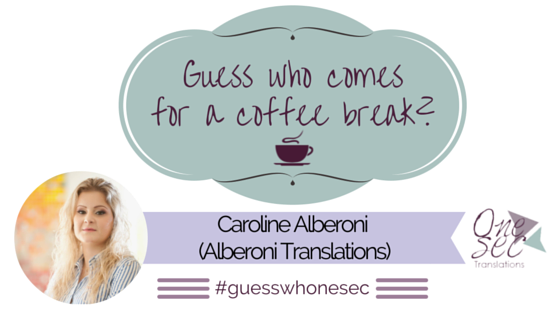 Good morning, readers! Here we go again!
Welcome back to my coffeece!
How has your Tuesday been so far? I hope that you are ready to have a break with us. Is your coffee brewing? Make sure to have it ready, because we are going to start in a few minutes.
We have our coffee on the table, and we are waiting for you. ☕☕
Well, today, I am very happy to introduce you another one of my roommates (yes, I am talking about those amazing ladies I shared the flat with in Bordeaux in September – words cannot explain how much I miss you all, girls! 💜): Caroline Alberoni.
Thank you so much for being here, Carol! It is a real honour to interview an amazing young woman and ladypreneur like you. I cannot wait to show our audience your calm and lovely personality. You are a very sweet girl, as well as a strong, resolute soul. I know you are going to surprise us with your answers, so let's get this going!
I know many of you had already been here, but maybe others has just come; therefore, let me explain how it works. I am going to ask you six sets plus a Bonus Qs section of questions covering your personal profile rather than the professional one. Today, the interview covers the first three sets. On Thursday, I will complete the interview asking you the remainder of the questionnaire.
Ready, set, go!

• What's your full name?
▷ Caroline Luiza Alberoni.
• What do you do for a living?
▷ I'm a translator.
• When is your birthday? I don't want you to feel uncomfortable with this question, so if you like I just would like to know your birth month or at least your birth season…
▷ January 8.
• How tall are you? (*We all know who is taking notes…*)
▷ 1,75 m.
• Zodiac – what's your sign?
▷ Capricorn.
• Where do you live?
▷ I was born in Rio Claro, SP, Brazil. I lived for 4.5 years in São José do Rio Preto, SP, Brazil, because of my BA. Then I lived for 1 year in Guildford, UK, because of my MA. And I also lived for 1.5 year in São Paulo capital because I felt like changing a bit and living in a big city once. Now I'm back to my hometown and don't plan on moving out.
• What's your favourite colour?
▷ Pink.
• When you were young what would you like to become when you grow up?
▷ I don't reckon wanting to be anything actually. So much so that when the time came to choose my major, I had to check a career guide, because I had no idea whatsoever. That was when I found out about translation and instantly knew what I wanted to be for life.
• Do you like animals? Have you got any pets?
▷ No, I don't. Please don't hate me. I don't know why, but I basically don't like any animals at all. Don't get me wrong though, this does not mean I hate them and like mistreating them. I actually don't like to see them suffering or being mistreated, but I don't like taking care of them or caressing them either. I know I'm one in a million, but I can't help it.


• Coffee or tea?
▷ Coffee, but I also like tea.
• Day or night?
▷ Day.
• Sea or mountain?
▷ It depends on the weather: sea for summer and mountain for winter.
• Early bird or namastay in bed?
▷ Definitely namastay in bed! I absolutely love sleeping and hate waking up. I love my bed!
• Have you ever played an instrument? If yes, which one? If no, have you got a favourite instrument or would you like to learn how to play one?
▷ No, I haven't. Maybe the piano, but I'm not really a big fan of playing instruments.
• What's an absolute must when you go out or travel? (Something you wouldn't ever leave at home)
▷ My mobile.
• Favourite food
▷ Japanese, but I also like pizza and popcorn a lot.
• Do you like cooking? If yes, what's your specialty?
▷ Well, I don't hate it, but I'm not a professional cook either. I can survive. I like cooking, but with time. My "specialty" is chicken stroganoff.
• Sneakers or heels?
▷ Sneakers, please! My height neither my knees can bear heels.
• Sporty or lazybones?
▷ Totally lazybones at home and sporty when I have to face the real world outside.
• If you like them, which is your favourite board game?
▷ I don't like any kind of games.
• What's your favourite book and the last one you read/you're reading?
▷ I'm not reading any book at the moment, although I like reading a lot. I have been reading a lot of running magazines on my spare time lately, and internet articles. Alice's Adventures in Wonderland is my favorite book ever.

• Do you consider yourself a geek?
▷ No, I usually have a hard time figuring myself around a computer or other tech stuff.
• Pc or Mac?
▷ Mac.
• If you have a smartphone, Android, iOS, or Windows?
▷ iOS.
• If you use social media, which is your favourite one?
▷ Twitter.
• Are you a gamer?
▷ Not!
So, we learnt that you travelled a lot in your country and you are a balanced person. It is very interesting, I am curious to know more about your true colours through the second part of the interview. I am sure many people would like to see who Caroline is beyond her brand and empathise with her dreams and expectations.
Time is running out, so see you on Thursday! Follow me and Caroline on social media to track the news!
If you enjoyed the first part of the chat, share it on social media using the hashtag #guesswhonesec and leave a comment.
If you want to take part in the series, just drop me a line.
~Cee
---
Who's Caroline? ▷ Caroline is a Brazilian freelance translator. She translates IT materials from English and Italian into Brazilian Portuguese. Caroline is the head and heart behind Alberoni Translations. She has a blog "Carol's Adventures in Translation", and can be found on Google+, Twitter, Facebook, LinkedIn, Pinterest, Instagram (@alberoni), Snapchat (@calberoni) and Periscope (@Alberoni).
.