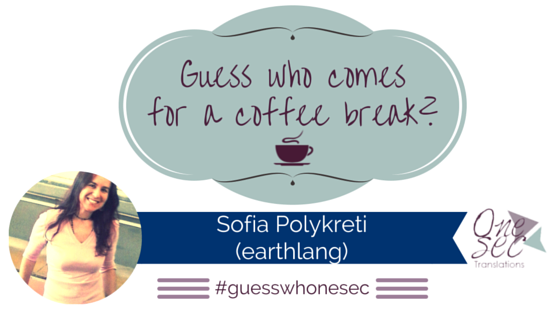 It's Tuesday, people!
What does this mean? What? I can't hear you… Ah! Yes, it's "Guess Who" time! 😉
How did your week start, dear followers? I hope that Spring has come to bring you a lot of positive things and productive days. Today, it brings a new interview, so…
Hello, Sofia! Welcome to my coffeece! 😊
As you can see, my (at the present time) e-friend is a smiley, sweet, and cheerful girl.
How are you, my dear? I hope things are fine at your end. It's a pleasure for me to have you here today. So, please, make yourself at home while I take my papers and I prepare the questions I am going to ask you. This is your coffee… ☕☺
As you know, we are going to talk over a cuppa and discover more about you, your dreams, your past, your true colours, and anything popping out from the things we say! 💜
Just relax and have fun!
Let's start with the first three batches out of the six sets (plus a Bonus Qs section) of questions covering your personal profile rather than the professional one.

• What's your full name?
▷ My full name is Sofia Polykreti. I haven't got a middle name (most Greeks of my generation don't, but nowadays middle names are becoming more common). Interestingly, the first female school principal in Greece was also called Sofia Polykreti, as I recently found out via Google.
• What do you do for a living?
▷ I run my own office as a surveying engineer and translator.
• When is your birthday? I don't want you to feel uncomfortable with this question, so if you like I just would like to know your birth month or at least your birth season…
▷ In March.
• How tall are you? (*We all know who is taking notes…*)
▷ I am actually on the petite side. ☺
• Where do you live?
▷ I live in Athens, Greece.
• What's your favourite colour?
▷ All shades of green; I am in love with nature!
• When you were young what would you like to become when you grow up?
▷ A lot of things; one of them was to become a translator! [ **So, you actually made your dream come true! 😍** ]
• Do you like animals? Have you got any pets?
▷ I absolutely adore animals. I have a timbrado canary, aptly named Juanito.


• Coffee or tea?
▷ Coffee in the morning, tea in the afternoon!
• Day or night?
▷ Day. I love walking in the sunshine! ☀
• Sea or mountain?
▷ Both.
• Early bird or namastay in bed?
▷ An early bird, even on weekends!
• Have you ever played an instrument? If yes, which one? If no, have you got a favourite instrument or would you like to learn how to play one?
▷ I play the piano; I have actually composed a few songs, as well!
• What's an absolute must when you go out or travel? (Something you wouldn't ever leave at home)
▷ My MP3 player so that I can listen to my favourite music when I'm taking long walks or when I am using public transport.
• Favourite food
▷ I love pasta and sushi but my true all-time favourite is mushroom stroganoff!
• Do you like cooking? If yes, what's your specialty?
▷ I love cooking, especially trying new recipes from different, sometimes exotic cuisines. I am very good at cooking pasta, the Italian way. My specialty is the proper al ragù (not bolognese) and the proper carbonara (not the infamous Greek version). I also make wonderful lasagna. [ **I can feel your love for Italy, my country, even through your words and little things like these… It's amazing! 😊** ]
• Sneakers or heels?
▷ High heels!
• Sporty or lazybones?
▷ Lazybones (reading novels mug in hand). [ **I guess 'reading books' could be a sport or even an Olympic one! Don't you think?** ]
• If you like them, which is your favourite board game?
▷ The Game of Life! Loved that one as a kid! [ **I had to look for it on the Internet… 😳** ]
• What's your favourite book and the last one you read/you're reading?
▷ I have recently become a Tudor geek, devouring both fiction and non-fiction. I am currently reading My Lady of Cleves: A Novel of Henry VIII and Anne of Cleves by Margaret Campbell Barnes. I haven't got a particular favourite book but if I had to choose, that book would be Middlesex by Jeffrey Eugenides.

• Do you consider yourself a geek?
▷ Yes!
• Pc or Mac?
▷ PC.
• If you have a smartphone, Android, iOS, or Windows?
▷ Android
• If you use social media, which is your favourite one?
▷ Twitter.
• Are you a gamer?
▷ I used to be. 😊
• If yes, what's your favourite video game of all time?
▷ Do you remember Pang? [ **Of course I do! I put a link redirecting to the related page on wikipedia to help our readers remember it, as well. 😉 ** ]
I am totally delighted to see that you are funny and also a deep thinker. I had no doubts, but our chat has revealed part of your traits. Well, I surely would like to talk to you a little bit more, but we have just run out of time. But, we have another day to discuss other topics and get to know you better. So, hold on! We will be back on Thursday!
Follow me and Sofia to read the latest updates and the impressions on this chat!
If you enjoyed the first part of the chat, share it on social media using the hashtag #guesswhonesec and leave a comment.
If you want to take part in the series, just drop me a line.
~Cee
---
Who's Sofia? ▷ Sofia is an Athens-based, fully equipped surveying engineer as well as a professional translator for English and Greek. She recently completed an MA in Translation Studies while she holds a Rural and Surveying Engineering Degree plus a BA in English Language and Literature. Her Twitter account was among the 25 Best Language Twitter Accounts for 2014. You can also read her blog, where she writes about language and geography, visit her LinkedIn profile, or contact her in Google+.