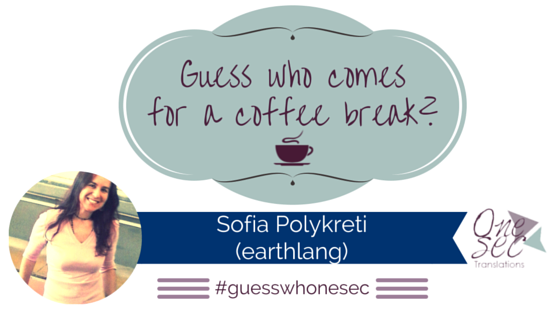 Hey there! It's Thursday, amazing followers! (I know, it's Friday – I had to postpone the scheduling because of an unexpected massive translation workflow, so there has been publication delay. I apologise for the inconvenience!)
Do you know what happens today? Yes! There's a guest waiting for being interviewed by yours truly. 😉
Thank you so much for following the series. It means a lot to me. I know, I keep on repeating it and I take any chance to thank you for being so lovely and supportive. 😊
My guest, Sofia, is one of the most participative person among my beloved ones, and I'm so so so happy to share this moment with her and you, past guests (but always being in the front row! I can see you! 💜💜💜), readers, followers, friends, colleagues, everybody! Without your contribution and support I wouldn't be here. You are helping me making my wish come true. I feel blessed every day. I don't know what to say… ☺😊✨ Just THANK YOU!
But… Where we were up to? Welcome back, my dear!
Are you ready to share your true colours with us? Here's your coffee! ☕ I know many of our readers are waiting for your answers, so… let's start!
Oh, of course…! In case you missed the first part of the interview with this lovely girl from Greece, you can find it here.


• If you are not doing it already, which language would you like to learn?
▷ Welsh because of its unique structure. I also like how it sounds.
• Favourite idiom
▷ I love English colour idioms such as "I saw red" or "He's a bit green" . 😊 [ ** IMHO this has a lot to do with your love for poetry. Am I wrong? ** ]
• Favourite saying
▷ I use a lot the Greek equivalent of "to each his own" since I believe that matters of taste are highly subjective. There's a saying in Greek which roughly translates as "taste is like pumpkin pie" because not everyone is fond of this particular pie (an acquired taste). 
• Have you got a motto?
▷ I like to say "one step at a time".
• Does your name have any special meaning?
▷ I like the fact that my name is easily recognisable and pronounceable by most people. The name Sofia comes from the Ancient Greek word σοφία which means wisdom.

• Favourite genre of music? Name your favourite singer or band
▷ Rock music. Favourite band: Jethro Tull.
• Best concert ever you participate in. Name the band/singer and the place.
▷ Alice Cooper in Athens!
• Can you share a song that is important for you?
▷ "Hazy Shade of Winter" by The Bangles.
• Favourite tv series – if you have one
▷ The Tudors. Not 100% historically accurate, but it creates a certain atmosphere, I guess!
• Are you a shipper?
▷ Rory and Jess from Gilmore Girls! [ **Team Jess forever! 😍☺ ** ]
• Favourite film – if you have one
▷ The Legend of 1900.
• Favourite actor and actress
▷ David Tennant and Helena Bonham Carter.
• Celebrity crush
▷ Milo Ventimiglia aka Jess!
• If you were a Disney character, which one would it be?
▷ I've always liked Ludwig Von Drake. You see, for me it was the epitome of knowledge! I wish there were more stories with him.
• Do you like musicals? If yes, which is your favourite one?
▷ Yes! I love The Sound of Music. Here it is usually on TV during the Easter holidays.

• Have you got anyone inspiring you? If yes, who is your role model?
▷ I like to read biographies of important people who made it in spite of everything. One such person is Elizabeth I of England. Even though she lived in the past, she will always be a source of inspiration for me.
• Describe yourself in 3 words
▷ Intellectual, loyal, sentimental. 😊
• If you could leave right now, where would you like to travel?
▷ Tierra del Fuego. The landscape totally fascinates me.
• Write something about yourself you are truly proud of
▷ I didn't listen to those who tried to discourage me from pursuing my goals. 😊
• Give an advice to your younger self
▷ You can make it!
• Have you got any tattoos? If yes, has it/have they any meaning?
▷ No.
• Where would you like to live?
▷ In London.
• If you were on a desert island, what would you bring with you? Name three things and say why you would picked them.
▷ I would bring my Nook because I can't imagine my life without books. I would also bring my MP3 player because I can't live without music. And I hope I'd remember to bring along something practical such as a Swiss knife!

• If you could meet an important/famous person, who would he/she be?
▷ Stephen Hawking.
• What would you ask him/her?
▷ I'd like to know his thoughts on the meaning of life!
Thank you, Sofia! I've enjoyed our chat! You are such an amazing woman and a lively soul. I hope that we could finally meet in real life and talk about our favourite tv series – as we are in the same team when it comes to Gilmore Girls! LOL – and our dreams. Your true self is inspiring and positive. You are a rocker, but also a good woman. I'm so happy that you opened up with me about your true colours, and it has been a real pleasure to have you here in my coffeece! Feel free to come back anytime, there is always room for a friend! 😊
If you enjoyed the second part of the interview, share it on social media using the hashtag #guesswhonesec and leave a comment.
Want to take part in the series? Just drop me a line and I will invite you to join me for a coffee.
Who's the next  guest to be on the "Guess who comes" series?
Let's find out next Tuesday.
~Cee
---
Who's Sofia? ▷ Sofia is an Athens-based, fully equipped surveying engineer as well as a professional translator for English and Greek. She recently completed an MA in Translation Studies while she holds a Rural and Surveying Engineering Degree plus a BA in English Language and Literature. Her Twitter account was among the 25 Best Language Twitter Accounts for 2014. You can also read her blog, where she writes about language and geography, visit her LinkedIn profile, or contact her in Google+.