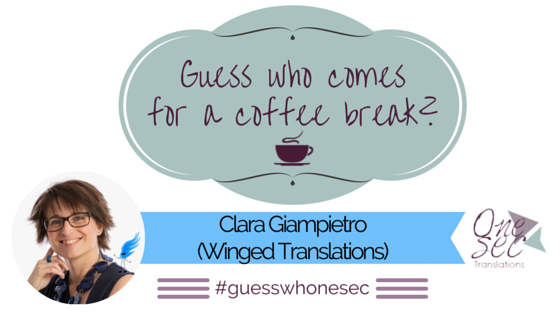 Good morning, people! How are you doing so far?
What?! You hadn't realised it was Thursday? You were almost missing the second part of my interview with Clara! But, now, you are here, so have a sit and catch up with the latest news by joining us for a coffee. Make yourself at home like Clara and Little Wing have already done. 😊
Welcome back, girls! Thank you for being here today. I guess Aletta is happy to know that so many people asked about her over the last two days. You have lots of fans! Your funny and fresh attitude drew the audience's attention, and I am curious to know your answers to the questions that are in store for you today.
Clara, you must be proud of your little companion. She is brilliant – and so are you. 💙💛
In case you missed the first part of the interview, you can find it here.
Here's your coffee, Clara ☕ – hope it is not too hot! – and here's a glass of milk for Little Wing. I put a straw in it.
Are you ok? Can we start? Good. 😊

• If you are not doing it already, which language would you like to learn?
▷ Portuguese.
• Favourite idiom
▷ Chi la dura, la vince, which means that if you don't succeed at first, it is always important to try, try again and persist until you achieve your goals.
▷ Avere la testa fra le nuvole, which means "to have your head in the clouds".
• Favourite quotation
▷ "We are all inventors, each sailing out on a voyage of discovery, guided each by a private chart, of which there is no duplicate. The world is all gates, all opportunities." Ralph Waldo Emerson
▷ "I am always doing what I cannot do yet, in order to learn how to do it." Vincent Van Gogh
• Have you got a motto?
▷ Make your words fly in Italian.
▷ Fly in the direction of your dreams.
• Does your name have any special meaning?
▷ Clara is the feminine form of the Late Latin name clarus which meant "clear, bright, famous".

• Favourite genre of music? Name your favourite singer or band
▷ I am usually more attracted by words, so I enjoy listening to many genres of music (Samuele Bersani, Fabrizio De André, Leonard Cohen, Jake Bugg, The Beatles, Queen, Savatage… just to name a few). It also depends on the mood or activity. For example, classical music helps me concentrate when I am translating.
▷ I like listening to the music that makes me dance and at the moment one of my favourite band is Flying Colors.
• Can you share a song that is important for you?
▷ Both: Little Wing by Jimi Hendrix. [ **Don't you think this is too sweet? It means a lot, I am sure…** ]
• Favourite tv series – if you have one
▷ I usually don't watch TV, but I try not to miss an episode of Il commissario Montalbano.
• Favourite film – if you have one
▷ The James Bond films with Sean Connery and Daniel Craig, Tim Burton's The Nightmare Before Christmas and Alice in Wonderland and Harvey, a 1950 film directed by Henry Koster and starring James Stewart and Josephine Hull.
▷ The Neverending Story.
• Favourite actor and actress
▷ Luca Zingaretti and Katharine Hepburn.
▷ Falkor the Luck Dragon from "The Neverending Story".
• If you were a Disney character, which one would it be?
▷ Dory. (Finding Nemo)
▷ Tigger. [ ** I think there's a knotty-related pattern here… ** ]
• Do you like musicals? If yes, which is your favourite one?
▷ I like them, and my favourite one is The Phantom of the Opera.
▷ I like Pete's Dragon and Mary Poppins.

• Have you got anyone inspiring you? If yes, who is your role model?
▷ My parents, sister, and brother on both a personal and a professional level, and Nora Torres and Marta Stelmaszak in the translation industry.
▷ Clara. 💙
• Describe yourself in 3 words
▷ Determined, practical, smiling.
▷ Creative, spontaneous, joyful.
• If you could leave right now, where would you like to travel?
▷ I would like to go to the Crooked Forest in Poland.
▷ I would like to fly to the moon.
• Write something about yourself you are truly proud of
▷ I am truly proud of who I have been and who I have become, of setting up Winged Translations and taking my first speech during an event organised by the Italian Association of Translators and Interpreters last October.
▷ I am very proud of being here.
• Give an advice to your younger self
▷ Never give up, and do not listen to people saying that you have to change. You will find your path, and being yourself will be your strength.
▷ Dreams do come true.
• Where would you like to live?
▷ I would like to live by the sea.
▷ I would like to live on the moon.
• If you were on a desert island, what would you bring with you? Name three things and say why you would picked them.
▷ I would bring my Swiss army knife to cut whatever I want or to build things, a sleeping bag to protect me from cold and bugs, and a box of matches for lighting fire.
▷ A giant box of chocolate, a book that never ends and Clara… with her three things! [ ** Teamwork is the word! ** ]

 Little Wing has taken the mic. She wants to answer the last two questions…
• If you could meet an important/famous person, who would he/she be?
▷ Falkor.
• What would you ask him/her?
▷ Can you fly me to the moon?
I am so touched by your words, ladies. Thank you so much for letting us get to know you better. I can say it has been a wondrous journey to the moon and back. You shown us your true colours – and I do not only refer to the thousands of shades of yellow and blue you like – and it has been amazing. You are inspiring souls, and the connection you share is a rare gift. I hope that this kind of balance can be motivating for all the people out there. There isn't anything more important than friendship, mutual sharing and help. You are the evidence that the future lies in the equilibrium between a practical attitude and imagination. Thank you so much for the time you spent with us, it has been an astonishing experience!
If you enjoyed the second part of the interview, share it on social media using the hashtag #guesswhonesec and leave a comment.
Want to take part in the series? Just drop me a line and I will invite you to join me for a coffee.
Who's the next  guest to be on the "Guess who comes" series?
Let's find out next Tuesday.
~Cee
---
Who's Clara? ▷ Clara is a professional English and Spanish to Italian translator. Since 2004, she has been translating technical, law and marketing texts. She loves working for technology and industry clients, and her mission is to help them expand their business by making their words fly in Italian. You can visit her website Winged Translations or you can find her on LinkedIn, Pinterest, Facebook and Twitter.
Who's Aletta? ▷ Aletta aka Little Wing is a cloud wanderer, dragon lover and the creative dreamer behind the visuals of Winged Translations.