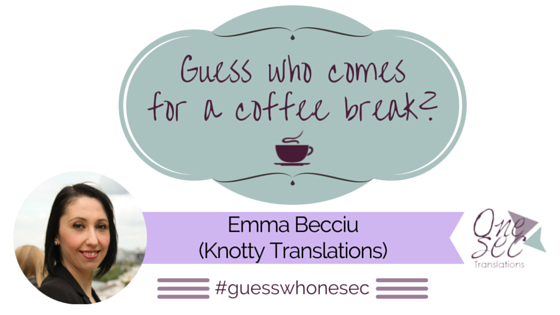 Here we go again, friends, followers and lovely colleagues!
Thank you for coming today. 😊
Emma is still with me – Welcome back, Emma! – and she is ready to keep on answering my questions with her knotty theme (please, read it as "naughty", which I finally write the right way. I had to proofread that word twice on Tuesday! My bad. #grammarnazi to the rescue).
In case you missed the first part of the interview with this funny lady, you can find it here.
Emma, can I pour you some tea? ☕ Yes? Perfect. Warm up!
Ready? Go.


• If you are not doing it already, which language would you like to learn?
▷ I studied Russian for two years but it is lost in the fog. If I had the time, I would go back to that, it is wonderful and it thinks of the world in a different way from ours, it simply amazes me.
• Favourite idiom
▷ If I got this right, I would say: Fai bei, bai in galera which is Sardinian for "Do good and you will end up in jail." It means that the more you are good to someone, the more they attack you.
• Favourite saying
▷ "No por mucho madrugar, amanece más temprano," which is the Spanish for "the early bird doesn't always catch the worm." It means that we should not do things before it's time, but I honestly like it for its literal meaning: To get up early is pointless!!!
• Have you got a motto?
▷ I have a couple, "let me undo your linguistic knots" was my description on Facebook and has now been used for my profiles, so I guess it is the main one.
• Does your name have any special meaning?
▷ Wikipedia says that "It is derived from the Germanic word ermen meaning whole or universal," which makes me feel quite humbled now. For me, it is just my grandmother's name and not a common name where I am from, which used to make me quite distinctive when I was a kid, despite all the jokes that you can make with it in Italian.

• Favourite genre of music? Name your favourite singer or band
▷ I like almost everything, depending on the moment. Not big fan of hip-hop or raggaetón, but in parties or clubs I enjoy everything if the company is worth. Queen is my favourite band, through them I learnt English when I was a teenager and at school I only studied French. The first thing I did when I arrived in London was to go to Logan place, Freddie's house.
• Best concert ever you participate in. Name the band/singer and the place.
▷ Elton John in Brighton. It was my birthday and my friend (he was my boyfriend then) made the impossible to give me a three-day trip with concert included.
• Can you share a song that is important for you?
▷ There are several, all have a meaning and represent a part of my life, but I guess Dido's Life for rent never ceases to represent me, "I haven't ever really found a place that I call home, I never stick around quite long enough to make it."
• Favourite tv series – if you have one
▷ Murder she wrote will always be my favourite, I love mysteries and I love Angela Lansbury. Actually, I saw her on stage last year and as an actress she is just perfection personified. Of the recent ones, I like those with vampires: Moonlight, True blood, and The vampire diaries, but artistically I consider Hannibal the best, the plot is good, but the artistic part (how they play with light and colours, the scenes, the music) creates a complete symphony that makes it a work of art. I just hope they will not overdo it with a new season, the story could have stopped at the end of season 2, it had already reached perfection.
• Are you a shipper?
▷ I stopped watching Bones before they ended up together, so I can safely say Booth and Brennan, she is terribly clever and does not care about what people think, while he is cute and dumb, I guess that represents my life these last three years (I am not saying that I am terribly clever, but the rest pretty much yes!).
• Favourite film – if you have one
▷ Breakfast at Tiffany's.
• Favourite actor and actress
▷ Sean Connery, no doubt, although I have several actresses: Angela Lansbury, I already said that, but also Audrey Hepburn and Glenn Close.
• Celebrity crush
▷ Well, I guess it helps the fact that he plays one of my favourite characters of all times, so I will say Ben Cumberbatch.
• If you were a Disney character, which one would it be?
▷ Tigger, my favourite: Silly, all over the place, big heart and let me be modest… "The wonderful thing about Tiggers is that Tiggers are wonderful things!".
• Do you like musicals? If yes, which is your favourite one?
▷ I love them, I wish I had more company to go and see them here in London. No need to say that I cried my heart out when they started singing No one but you (Only the good die young) in We will rock you.

• Have you got anyone inspiring you? If yes, who is your role model?
▷ I do not think there is a person in particular, I take things from different people if I consider them inspiring.
• Describe yourself in 3 words
▷ You are going to be surprised, but who knows me truly would agree: shy, negative, honest.
• If you could leave right now, where would you like to travel?
▷ Australia again, then the USA, I need to see the States without the bad influence that I had the previous times. I would say Dubai to hug my brother, but we will see each other often in the following months, so I will wait for when I will miss him more!
• Write something about yourself you are truly proud of
▷ I worked hard and against everyone's opinion to study abroad and become an interpreter.
• Give an advice to your younger self
▷ Trust yourself.
• Have you got any tattoos? If yes, has it/have they any meaning?
▷ No, I always thought I could never have one so, of course, I am thinking if I should have one. 😁😀
• Where would you like to live?
▷ Dido again: "I've always thought that I would love to live by the sea." By the sea and where it is always summer.
• If you were on a desert island, what would you bring with you? Name three things and say why you would picked them.
▷ Something to write, notebook and pen, to be able to put down my thoughts and publish them when rescued; lip balm, my lips always crack; Gaia, she is my true love.

• If you could meet an important/famous person, who would he/she be?
▷ I hope I do not have to choose a living one, because I am going for Freddie Mercury, and I would just ask him to sing Bohemian Rhapsody for me.
• What would you ask him/her?
▷ Ooops, I answered already!
Wow, Emma! This chat was intense. You have been truly inspiring and honest. Besides, you have opened up with us with humor and being talkative. I think your answers reveal a lot about your true self and what you believe in. Your mixed personality comes from the countries you lived in and visited, and this makes you an interesting person. Well, it is not strange that I say it, because we have a lot in common and we are used to call each other dopplengänger, but it was fun to have you as my guest. Thank you so much for the time you spent with us!
If you enjoyed the second part of the interview, share it on social media using the hashtag #guesswhonesec and leave a comment.
Want to take part in the series? Just drop me a line and I will invite you to join me for a coffee.
Who's the next  guest to be on the "Guess who comes" series?
Let's find out next Tuesday.
~Cee
---
Who's Emma? ▷ Emma is an Italian translator and interpreter based in London. She always describes herself as half Spanish because she left part of her soul in Salamanca where she graduated. She started blogging as Une belle infidèle in 2012 and created her brand Knotty Translations last December. She has tons of interests that she shamelessly promotes on social media. You can find out more about her on her about.me page that includes all her profiles (Facebook, Twitter, Instagram) and, soon, also on the website that she is creating.