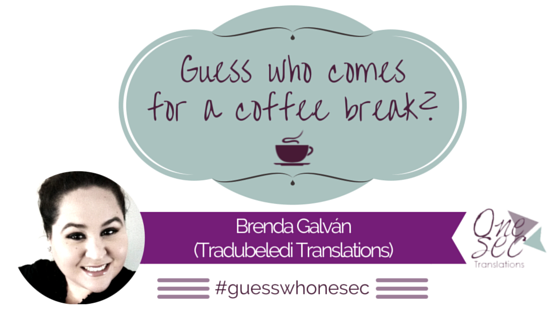 Good morning, everyone!
So many people waiting for getting to know our guest better. I think Brenda must be excited!
Welcome back, Brenda!
This is a hectic Thursday, so let's start and resume our lovely chat. 😉 Of course, you can find the first part of the interview with this supercute Latina here.
Here you are, Brenda. This is your Vanilla iced coffee! (A different drink was waiting for you today! ☕)
Wave me to start. May I? Good.


• If you are not doing it already, which language would you like to learn?
▷ I would love to improve my Italian and Arabic.
• Favourite idiom
▷ Hard to say… I have many, but here are a few: "It's raining cats and dogs", "No tengo pelos en la lengua", "Lo barato sale caro", "Tomar el toro por los cuernos",  "Cada muerte de ovispo", "Estar hasta la madre", "Cada chango a su mecate", "rat de bibliothèque"…
• Favourite saying
▷ Hard to say… I have many, but let me tell you a few: "El diablo es puerco", "Al nopal sólo lo van a ver cuando tiene tunas", "Tanta culpa tiene el que mata la vaca, como el que le agarra la pata", "Den Letzten beißen die Hunde" …
• Have you got a motto?
▷ Still working on that lol… I often say "el puerco no es de fiar" in a funny way when people are planning to eat pork (I don't eat it due to religious and sanitary reasons…).
• Does your name have any special meaning?
▷ Apparently it is a Germanic or Scandinavian name that means "strong as a sword", but I've heard it means "little raven" in Gaelic lol.

• Favourite genre of music? Name your favourite singer or band
▷ Too many… depending on my mood: romantic boleros, bachata, Arabic music, chaabi, pop, rock, salsa, merengue, mariachi, etc. Favorite singers and/or groups: Luis Miguel, Maher Zain, Romeo Santos, Laura Pausini, Cheb Khaled, Aventura, Maná, Amel Bent, Amr Diab, Nancy Ajram, Paquita la del Barrio, etc…
• Best concert ever you participate in. Name the band/singer and the place.
▷ None for now… but I'm so looking forward to attend a concert of Luis Miguel, Romeo Santos, and/or Maher Zain.
• Can you share a song that is important for you?
▷ A lot… but some of Maher Zain's songs have really made me think a lot about my life (the album "Forgive me"). I don't know why, but most of Luis Miguel's songs of all his "Boleros" albums have definitely become part of my life.
• Favourite tv series – if you have one
▷ My six favorites ones: Orange is the New Black, Sex & The City, Law & Order – Special Victims Unit, El Tiempo Entre Costuras, Modern Family, How I Met Your Mother, and Rules of Engagement.
• Are you a shipper?
▷ I guess not…
• Favourite film – if you have one
▷ Still working on that, but I like these ones: Les Hommes Libres, My Mexican Shivah, Amélie, Veer-Zaara, 3 Idiots, My Name is Khan, The Back-up Plan, and all the  Fast &  Furious, Avengers, X-Men, and IronMan sagas.
• Favourite actor
▷ Sharukh Khan.
• Celebrity crush
▷ Fernando Colunga, Mahmoud Shalabi, and John Abraham (actor).
• If you were a Disney character, which one would it be?
▷ I guess I've got a little bit of every princess: dreamy like Ariel, open-minded like Belle, stubborn like Mulan, caring like Jasmine, and often misunderstood like Elsa.
• Do you like musicals? If yes, which is your favourite one?
▷ Not really.

• Have you got anyone inspiring you? If yes, who is your role model?
▷ Queen Rania of Jordan, my mom, my grandma, my aunts Claudia and Lolis, and each and every one of my closest colleagues. 😊💜   [So sweet of you, dear!]
• Describe yourself in 3 words
▷ Stubborn, short-tempered, sensitive.
• If you could leave right now, where would you like to travel?
▷ Morocco, Dubai, or Southern Spain (Granada, Málaga, Córdoba, Sevilla…)
• Write something about yourself you are truly proud of
▷I love being culturally open-minded and I'm proud of having decided to become a freelancer. Many people underestimated my skills and dreams, but I studied what I wanted to study and became what I wanted to become. If it hadn't been for God, my parents, my brothers, and my back-then fiancé, I wouldn't even have made it that far. ✨
• Give an advice to your younger self
▷ Think twice in a more analytical way before deciding to make a purchase or invest on something.
• Have you got any tattoos? If yes, has it/have they any meaning?
▷ No 😔
• Where would you like to live?
▷ Morocco or Miami.
• If you were on a desert island, what would you bring with you? Name three things and say why you would picked them.
▷ Bottles of water, matches and lighters, and a writing kit. I need water to survive, matches and lighters to cook whatever I find and make HELP signals, and the kit so that I can write ideas and ask someone to HELP me (yes, I'll place a piece of paper inside the empty bottles of water). I know people would be like "and why not Brunita?" I would love to, but I'd rather struggle and be all freaked out in the wild than stressing her out.

• If you could meet an important/famous person, who would he/she be?
▷ Oh, man… now this is hard since I would love to meet a lot of them. Probably comedians such as Gabriel Iglesias, Cristela, Russell Peters, Maz Jobrani, and Maysoon Zayid.
• What would you ask him/her?
▷ I don't know, maybe I would ask them if they want to hang out to the movies, 'though I would ask them [as well] to tell me more about their childhood and a few jokes to break the ice. 😊
Thank you so much – I said it twice or thrice – for spending this week with us. It has been a real pleasure and I hope that you had fun being here with me and the amazing audience out there. I'm glad you told us what it is like to be a sensitive, lovely person like you. I noticed you have a strong tie with your family and you are a grateful woman. Keep being like that, we deserve people like you in the world. Thank you for showing us your true self. Oh, and don't forget to say "Hi" to Brunita and your husband (José – I know you are following us from home! ☺) for me (and all our followers *LOL*).
If you enjoyed the second part of the interview, share it on social media using the hashtag #guesswhonesec and leave a comment.
Want to take part in the series? Just drop me a line and I will invite you to join me for a coffee.
Who's the next  guest to be on the "Guess who comes" series?
Let's find out next Tuesday.
~Cee
---
Who's Brenda? ▷ Brenda is a Mexican freelance ES<>EN, FR>ES/EN translator and ES<>EN interpreter based in Corpus Christi, TX. She is specialised on Immigration, Legal personal documents, Healthcare/Medical, Foreign Affairs, and Hispanic Marketing, and has special interest on Islamic Studies and Cultural Mediation. In 2013, she founded Tradubeledi Translations and that same year started her blog. Latina of Moroccan heart, food lover, and human mamma of a bird celebrity: Brunita. You can find her on Facebook, Twitter, LinkedIn, Instagram, and Pinterest.