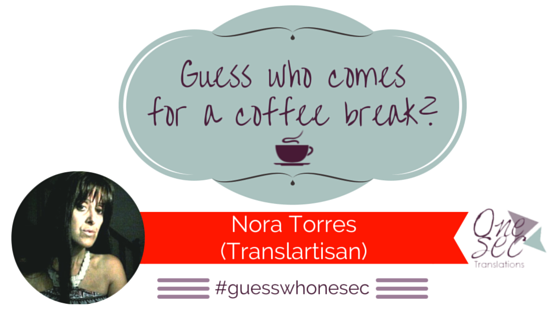 Welcome to my coffeece, amazing friends, followers, readers, and world out there!
It's a wonderful, sunny Tuesday and I can't be happier! Sun always recharges me and helps me staying positive. 😊☀
Let me introduce the guest of the day to you.
Hello, Nora! Welcome! Make yourself at home. We are going to talk over a cup of caffe latte. I wanted to prepare a mate for you, but it's a little bit too late. Sorry, I'm living hectic days and I've postponed our chat. I hope this is not a problem! ☕
We are going to discover more about you as well-rounded woman and a precious soul.
Thank you so much for coming and accepting my invitation! I am sure we will have a lot of fun together! 💜
Well, let me take the questionnaire. I am going to ask you six sets plus a Bonus Qs section of questions covering your personal profile rather than the professional one. Today, you are going to answer the first three sets, then on Thursday the remainder of them.
Let's get the party started!

• What's your full name?
▷ Nora Mabel Torres de Lassalle.
• What do you do for a living?
▷ I work full-time as a translator, linguistic validator and cognitive debriefer, and I'm co-owner of a small translation studio, Translartisan. We specialize in linguistic validation in the life sciences field.
• When is your birthday? I don't want you to feel uncomfortable with this question, so if you like I just would like to know your birth month or at least your birth season…
▷ March 4. And I'm old enough not to feel uncomfortable telling you the year I was born in— 1960.
• Zodiac – what's your sign?
▷ Proud to be a Pisces.
• Where do you live?
▷ I live in Banfield, a small city about 15 km away from the city of Buenos Aires, Argentina. My house is big and luminous, and we have a fairly large garden at the back where I love to relax every now and then throughout the day.
• What's your favourite colour?
▷ Well, I'm afraid I don't have a simple answer to this question! I love black and white for clothing, camel for shoes, bright red for accessories, plain white for houses and furniture, brick-orange for roofs… and I could go on and on! 😊
• Do you like animals? Have you got any pets?
▷ I have a real passion for dogs. And yes, I had two wonderful ones until a few years ago, when they died of old age. They were simply gorgeous.


• Coffee or tea?
▷ Tea or mate (a beverage similar to tea, but greener and stronger-flavored) in the morning; caffe latte later in the day.
• Day or night?
▷ Day is absolutely my thing.
• Sea or mountain?
▷ Sea in summer; mountain, the rest of the year.
• Early bird or namastay in bed?
▷ Early bird. Have never caught any worms, though.
• Have you ever played an instrument? If yes, which one? If no, have you got a favourite instrument or would you like to learn how to play one?
▷ I've played the piano since I was a young child. Back then, every week my mother used to go visit a friend of hers who had a school of music, and I think those visits are one of my happiest childhood memories— two grand pianos, one opposite the other, all to myself; and lots of other instruments I was allowed to touch and play (with)! True paradise. But then my mother died when I was six, and I never went back there. [ ** 😢 …this is so moving… 💜 ** ] I continued with my piano lessons elsewhere and have many times wondered what it would be like to go and see what the place looks like now, but I've never actually done so, perhaps in fear of disappointment…
• Do you like cooking? If yes, what's your specialty?
▷ I'm a nearly all-vegetarian, and I have great fun coming up with new ideas for recipes. One of my specialties is lentil-stuffed pies, which my hubby loves and has learned to prepare himself! 🍀🌿🌾🌱
• Sneakers or heels?
▷ Sneakers, definitely.
• Sporty or lazybones?
▷ Not sporty actually, but rather a Pilates lover who also enjoys going out for long walks early in the morning.
• What's your favourite book and the last one you read/you're reading?
▷ My favorite book was The Glass Bead Game, by Hermann Hesse. And the last one I read was 'Una suerte pequeña' (A Little Stroke of Luck), by Claudia Piñeiro. I read it a couple of weeks ago during my summer vacation, after The Assault, by Harry Mulisch, following a (smart) tip from one of my children, and The Casual Vacancy, by J. K. Rowling, which I found mostly uninteresting and not worth the rather large amount of time I spent on it..

• Do you consider yourself a geek?
▷ Not at all. I started translating using a manual Olivetti typewriter back in 1982, then switching first to a Brother-brand electric typewriter, then to an IBM computer station (wow!) around 1986 while I was still working as an in-house translator at a large domestic bank. I've never stopped learning since then, and, today, my notebook goes with me everywhere I go. I have digitalized my entire office and find myself comfortable using and learning how to use a large number of programs and CAT tools, but a geek? Not at all. And I guess I'll never become one.
• If you use social media, which is your favourite one?
▷ I use only a few social media channels, each one for a different purpose and, as is the case with colors, I like each of them on their own. I use my Facebook page mostly to let my followers, many of whom are translation students and recently graduated translators, know about new —or old but valuable— resources, and occasionally witty or interesting views about the translation profession. On the other side, I use my twitter account to share current events and information of interest to translation colleagues. On LinkedIn, I keep a thorough profile and I also share interesting news; this is the channel through which new clients approach me most often. And then, there's Pinterest, which represents my most personal, playful side; there, I don't much care about likes or followers— my Pinterest boards are mine and for my own pleasure only!
How beautiful it is to talk to you, Nora! You are so lively and your answers are food for thought. I would like to enjoy your company a little bit more, but, our time is up for today! But, don't worry at all, because this is your week, so… Hold on, we will be back on Thursday!
Follow me and Nora to read the latest news and the impressions on the topic we discussed!
If you enjoyed the first part of the chat, share it on social media using the hashtag #guesswhonesec and leave a comment.
If you want to take part in the series, just drop me a line.
~Cee
---
Who's Nora? ▷ Nora is an English-Spanish translator, expert back-translator, localizer, proofreader, quality manager, and linguistic validation consultant. She holds a B.A. in Translation with a Major in Law from the University of Buenos Aires, and has been in the translation industry for over 30 years now. Initially an in-house translator for the largest publicly-held bank in Argentina and a classroom-based and distance-education Teacher of English for International Trade, she became a freelance translator in 1992. Nora was Vice-President of FairTradeNet, a Geneva-based association of freelance translators and, as such, was part of the delegation representing FTN at the World Summit on the Information Society in December 2003. She became a certified life-sciences linguist in 2007 and is currently co-owner of Translartisan, a translation studio specializing in biomedical translation. You can find her on Facebook, Twitter, Pinterest, LinkedIn, or contact her through her website [translartisan.com].