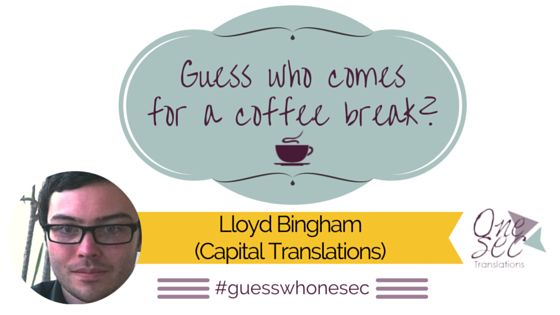 It's Thursday, friends, followers, and lovely colleagues!
Thank you so much for being here today. 😊
Lloyd is sitting next to me, sipping his cup of coffee ☕ – Welcome back, Lloyd! – and he is ready to answer all the questions I prepared for today's appointment.
In case you missed the first part of the interview with this chatty guy, you can find it here.
Lloyd, are you ready? I noticed I didn't check the Bonus Qs, so we have only three batches of questions to answer. Perfect! 😉
3… 2… 1…


• If you are not doing it already, which language would you like to learn?
▷ Italian or Portuguese, or Swedish or Danish, would be logical as I already have Spanish/German. I'd love to learn a language with a different alphabet, not quite as tricky as Chinese, so perhaps Greek. On top of that, I'd really like to pick up Welsh again. I studied it until age 16 but more and more and more people are learning it now and there have never been so many opportunities to use it (in Wales at least).
• Favourite saying
▷ "It does not do to dwell on dreams and forget to live." Albus Dumbledore (of Harry Potter fame)
• Does your name have any special meaning?
▷ Traditionally spelt as 'llwyd', it means 'grey' in Welsh. Make of that what you will. [ ** So your passion for silver has ancient roots! 😉 It was written in the stars. ** ]

• Favourite genre of music? Name your favourite singer or band
▷ My taste is pretty eclectic: rock, electronic, jazz, soul. And a new genre called tropical house (look up Kygo). But I detest contemporary R&B. There's just nothing to the lyrics. Or tune.
• Best concert ever you participate in. Name the band/singer and the place.
▷ My first concert: The Spice Girls in 1998. [ ** Amazing! I do envy you, right now! ** ]
• Can you share a song that is important for you?
▷ Sorry if this is a bit cheesy, but Rule the World by Take That. When my fiancée and I danced to it at our engagement party, we decided that would be our song. [ ** Awww! It's not cheesy at all… It's sooo romantic! Congrats! Thank you for sharing this memory with us… I'm touched! 😍😍😍 ** ]
• Favourite tv series – if you have one
▷ I'm watching Deutschland 83 at the moment, which is pretty gripping. As much as I love my cultured foreign-language series, I also love ridiculous and inappropriate comedies that are so bad that they're funny (e.g. It's Always Sunny in Philadelphia).
• Favourite film – if you have one
▷ A French one, Le Diner de Cons. Such understated hilarity.
• Favourite actor and actress
▷ Alan Rickman, may he rest in peace. Also, a very underrated actor: Bradley Walsh.
• Celebrity crush
▷ Genuinely don't have one.
• If you were a Disney character, which one would it be?
▷ Jafar. Haha, not really. Probably Iago, the annoying parrot from Aladdin. [ ** I suggest you to read the story of the character on wikipedia >> Iago. It made me laugh! ** ]
• Do you like musicals? If yes, which is your favourite one?
▷ Not a great fan, but I do like the Rocky Horror [Picture] show. And don't tell anyone, but Hairspray too. [ ** Shhh… Don't worry! I won't tell anyone… but the audience! LOL ** ]

• Have you got anyone inspiring you? If yes, who is your role model?
▷ No, I tend to do things my own way. I don't believe in role models as we tend to over-idolise them and believe their way is the only way of doing things, which prevents us from developing our own personalities.
• Describe yourself in 3 words
▷ Reasonable, determined and open-minded.
• If you could leave right now, where would you like to travel?
▷ Mexico. Always wanted to go there. I've always been too Europe-focussed, so I'd love to go somewhere far away, with a completely different cultural heritage (e.g. Aztec), but where I can still speak the language.
• Write something about yourself you are truly proud of
▷ I'm proud of where I am today and how I have achieved it primarily through self-motivation and resolve. Not many of my school friends went to university and those who did stayed local, so I am proud that I was bold enough to move far away, to meet new people and I was rewarded with the opportunities that it brought. My life would be entirely different if I hadn't made that decision. I wouldn't have studied so many languages, nor lived or visited the places that I have, nor met the close friends I have today, and it is not unlikely that I wouldn't have become a translator.
• Give an advice to your younger self
▷ Don't worry. And don't be afraid to be different. To say what others won't and to do what others fear to do.
• Have you got any tattoos? If yes, has it/have they any meaning?
▷Nope, not a fan at all.
• Where would you like to live?
▷ I'm happy where I am. It's a good-sized city with everything that you need. It's international enough for me as there's always some major sport or cultural event on every weekend. For anything else, London is two hours away.
Thank you so much for your time, Lloyd! I am so glad you came and spent this week with me and the readers. It has been an amazing experience, because I only knew you through what I saw and read online. But, after having the chance to get to know you better I discover you are a wonderful soul, and you are truly inspiring for your strength and way of being practical, yet sensitive. I wish you all the best and I hope that your idea of business will grow up as supported by your courage and your determination. Keep going! Thank you – thank you – thank you! Come back anytime!
If you enjoyed the second part of the interview, share it on social media using the hashtag #guesswhonesec and leave a comment.
Want to take part in the series? Just drop me a line and I will invite you to join me for a coffee.
Who's the next  guest to be on the "Guess who comes" series?
Let's find out next Tuesday.
~Cee
---
Who's Lloyd? ▷ Lloyd Bingham runs Capital Translations in Cardiff, UK, working from French, German, Spanish and Dutch into English. A former in-house translator, he specialises in marketing and business. Lloyd is unhealthily passionate about encouraging translators to become more immersed in their industry and delivers presentations on how they can use Twitter to engage with their colleagues. Recently, he has campaigned for maintaining professional standards in translators' behaviour online and turning the tide against client and colleague bashing in order to find solutions to the issues in our profession instead. Lloyd is a qualified member of the Institute of Translation and Interpreting (ITI). Follow him on Twitter and on Facebook.