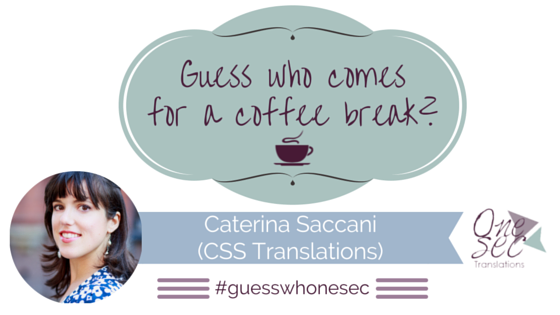 Welcome back, followers and lovely colleagues!
As I promised, we are back with the second part of my interview with Caterina of CSS Translations. 😊
She is sitting next to me and already sipping her coffee.
Hi, Cate! Are you ready to answer the second batch of questions about your true colours?
In case you missed the first part of the interview with this lovely brunette, you can find it here.
Let me take a coffee, too. It is going to be a great ride, I need energy! Ok. Now we can start. ☕😉
Go.


• If you are not doing it already, which language would you like to learn?
▷ I would love to learn a Scandinavian language, as they are said to be quite similar to Dutch and German (which I already speak) and Nordic languages fascinate me.
• Favourite idiom
▷ Don't pull all your eggs in one basket.
• Favourite saying
▷ Just found this in the internet and made it to my favourite saying: "Don't Worry About Those Who Talk Behind Your Back, They're Behind You For A Reason". I can relate to it!!!
• Have you got a motto?
▷ Don't let others convince you that you're not going to make it.
• Does your name have any special meaning?
▷ Greek καθαρος (katharos) "pure".

• Favourite genre of music? Name your favourite singer or band
▷ Rock/pop. Many different bands /artists. I get bored if I listen to the same one too long.
• Best concert ever you participate in. Name the band/singer and the place.
▷ I've always avoided concerts because I'm afraid of crowded places. But I quite enjoy the Belgian music festivals. A few days ago I attended the Night of The Proms in Antwerp, featuring stars like John Miles, The Pretty Vanillas en John Miles, just to name a few. I really enjoyed it.
• Can you share a song that is important for you?
▷ Wind of Change by Scorpions.
• Favourite tv series – if you have one
▷ I tried to watch a few, but immediately got annoyed by the laughters on the background. [ **Try with different kind of series, such as sci-fi series or something like Sherlock and Pretty Little Liars. 😉** ]
• Favourite film – if you have one
▷ Across the Universe.
• Favourite actor and actress
▷ Clive Owen, Emily Blunt.
• If you were a Disney character, which one would it be?
▷ Pocahontas.
• Do you like musicals? If yes, which is your favourite one?
▷ Yes, The Phantom of The Opera.

• Have you got anyone inspiring you? If yes, who is your role model?
▷ My mentor, a seasoned conference interpreter and translator called Ina.
• Describe yourself in 3 words
▷ Authentic, helpful, positive.
• If you could leave right now, where would you like to travel?
▷ See more of South-East Asia. I've "only" been to China. 😉 [ **…I'm pretty much envious of this! 😁 Please, call me if you think to travel there someday soon!** ]
• Write something about yourself you are truly proud of
▷ I'm a regular blood donor. It cost me quite a lot of effort and self-control the first time. [ ** As Eleanor Roosevelt would say: 'Do one thing every day that scares you.' Well done, girl! ** ]
• Give an advice to your younger self
▷ "Cultivate your creativity". I think I was way more creative as a teenager than I am now.
• Have you got any tattoos? If yes, has it/have they any meaning?
▷ No, way too painful I guess. 
• Where would you like to live?
▷ Exactly in the place where I live now.
• If you were on a desert island, what would you bring with you? Name three things and say why you would picked them.
▷ A desert island with or without wifi-connection? Lol. 1) A notebook to collect my thoughts and impressions, 2) Some sunscreen lotion (I love sunbathing, but I get burnt quite easily) 3) a Ken Follett book. A thick one. Otherwise I might get bored. 😉

• If you could meet an important/famous person, who would he/she be?
▷ Ken Follett (British writer).
• What would you ask him/her?
▷ Ask him to write a book about our contemporary history, about our generation, about what is going on in different parts of the world right now, taking different perspectives. I could offer to arrange the translation into different languages.
What an amazing time we spent, Caterina! Your lively personality is really attractive. I've felt a great energy coming from you. You are determined, yet very cute. I think your name perfectly reflects your soul: you are pure. I already thought you were a positive, bright soul when we met in Bordeaux, but through your words you have confirmed that first impression. I hope that you could meet Ken – stalk him! Social media can do the trick! *just joking… or not?* and I'm sure you will achieve a lot in your life, because you know who you are and what you can do. I'm impressed, keep going, dear!
It has been a pleasure to have you as my guest. Thank you so much for saving some time to visit the coffeece! 
If you enjoyed the second part of the interview, share it on social media using the hashtag #guesswhonesec and leave a comment.
Want to take part in the series? Just drop me a line and I will invite you to join me for a coffee.
Who's the next  guest to be on the "Guess who comes" series?
Let's find out next Tuesday.
~Cee
---
Who's Caterina? ▷ Caterina (of CSS Translations) is an Italian conference interpreter and translator based in Aachen, Germany. Born and raised in Correggio (Northern Italy), she gained a BA degree in translation and interpreting from Bologna University (Forlì) in 2011 and a MA degree in Conference Interpeting from Mainz University (Germersheim) in 2014. Currently she works as a full-time freelance conference interpreter and translator specializing in corporate communication, marketing and law. She is active on many social media platforms (including Twitter and Facebook) and loves meeting other great #xl8ors at conferences and networking events.