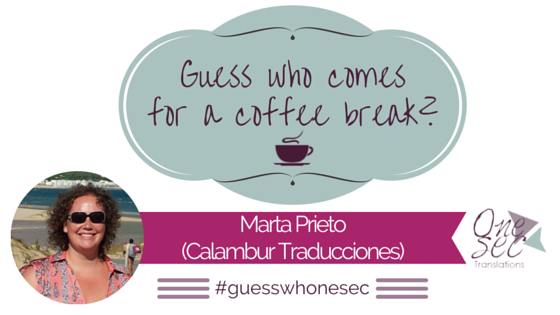 Hi, Marta! Welcome to my coffeece! Please, make yourself at home, and take your cup of coffee. It is right there in front of you. 😊☕
Can you see all the people in the crowd sitting there just to know more about you?
How are you? It has been a few months since we have met in Bordeaux. I have missed you! 💜
Thank you so much for coming! I am very excited, because I am sure we will have a great time together, today.
I surfed your brand new website – which you can find in Marta's bio at the bottom of the page – and I think it is great! Good luck with your business!
But, what you think? Are you ready to answer my questions?
As you know, I am going to ask you six sets plus a Bonus Qs section of questions covering your personal profile, and, today, your interview focuses on the first three sets – the easier questions. Then, on Thursday, I will ask you the remainder of them related to tastes, expectations, and much more.
Let's go!

• What's your full name?
▷ Marta Prieto.
• What do you do for a living?
▷ I am a freelance EN/FR>ES Translator EN<>ES Sworn Translator. My areas of expertise are: librarianship, medicine and architecture.
• When is your birthday? I don't want you to feel uncomfortable with this question, so if you like I just would like to know your birth month or at least your birth season…
▷ 02/04.
• Zodiac – what's your sign?
▷ Aries.
• Where do you live?
▷ Birth place and city I live now: Pamplona (Spain). University studies in Granada (Spain). Worked in Madrid (Spain).
• What's your favourite colour?
▷ Depending on my mood but I clearly prefer red and green.
• When you were young what would you like to become when you grow up?
▷ A veterinary.
• Do you like animals? Have you got any pets?
▷ I love some animals. I don't like neither insects nor reptiles. I have a beagle dog called Yako, it is almost ten years old, I am afraid of the day…


• Coffee or tea?
▷ Coffee.
• Day or night?
▷ Day.
• Sea or mountain?
▷ It depends… I like both. If I need to relax a lot, definitely sea.
• Early bird or namastay in bed?
▷ Definitely namastay in bed. I hate getting up early.
• Have you ever played an instrument? If yes, which one? If no, have you got a favourite instrument or would you like to learn how to play one?
▷ In the school I learnt to play the recorder. I specially love listening to brass bands, but I also like listening to violins and pianos.
• What's an absolute must when you go out or travel? (Something you wouldn't ever leave at home)
▷ A book and/or my e-book. I also have to look for places to dance swing.
• Favourite food
▷ Ajoarriero (a cod speciality from the Spanish region of Navarre).
• Do you like cooking? If yes, what's your specialty?
▷ I only like cooking if it is for more people; if it is only for myself, I don't. I don't really have a specialty, I like cooking new recipes every other time I gather with people..
• Sneakers or heels?
▷ Sneakers.
• Sporty or lazybones?
▷ I hate running but I love dancing lindy hop. So if you ask me if I want to go to a swing festival I would say…  YES!! Let's go right now!
• If you like them, which is your favourite board game?
▷ Ludo 😃 I don't really play anything else.
• What's your favourite book and the last one you read/you're reading?
▷ I think it is a very difficult question to answer but one of my favourites is El tiempo entre costuras by María Dueñas and the last one I've read is La analfabeta que era un genio de los números by Jonas Jonasson.

• Do you consider yourself a geek?
▷ No, I don't.
• Pc or Mac?
▷ PC.
• If you have a smartphone, Android, iOS, or Windows?
▷ Android.
• If you use social media, which is your favourite one?
▷ Twitter.
• Are you a gamer?
▷ No, I am not.
Marta, thank you so much for your answers! I didn't know about the existence of a board game called Ludo before talking to you. I love board games, but I missed this one. Good to know! I have to look for more information about it, so we could play it next time we will share a flat.
Well, our time is up! I hope that our readers enjoyed the first part of the chat. But, don't worry, we will be back on Thursday with the second part and another great time with Marta Prieto!
Follow me and Marta to catch up with the latest news!
If you enjoyed the first part of the chat, share it on social media using the hashtag #guesswhonesec and leave a comment.
If you want to take part in the series, just drop me a line.
~Cee
---
Who's Marta? ▷ Marta is a Spanish-English Sworn Translator by the Spanish Ministry of Foreign Affairs, a freelance English and French to Spanish translator since 2002 and an Information Specialist who has worked in different media and consultancy services. And a lindy hopper! You can find her also behind the name of Calambur Traducciones. Her areas of expertise are: librarianship, medicine and architecture. You can find her on social media: Twitter, Facebook, Google+ (Personal and Professional account), and LinkedIn.