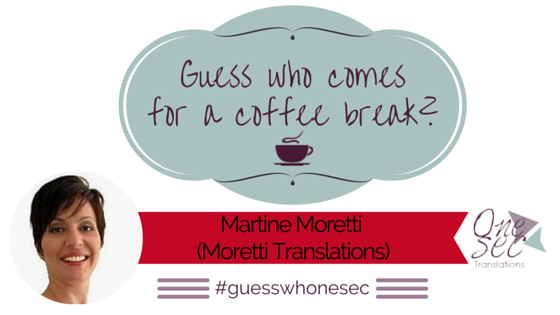 Hello! What a pleasure to have you here once again for our weekly appointment with amazing colleagues from TranslationLand!
Are you curious to know more about Martine? 😊
She brought les viennoiseries françaises so we are going to enjoy our coffee with some treats. ☕ This woman knows how to win a girl's heart! 😁❤
Thank you, Martine for being here! Time to answer the questions we left pending.
I want to remind my precious readers that the first part of the interview w/ Martine can be found  here.
Well, ready to have some fun? Enjoy your coffee, enjoy the ride. ☕


• If you are not doing it already, which language would you like to learn?
▷ I am intrigued by Russian and Arabic … but before diving into something brand new, I'd like to improve my really basic knowledge of Portuguese.
• Favourite idiom
▷ "Every cloud has a silver lining".
• Favourite saying
▷ Volere è potere ("When there's a will there's a way").
• Have you got a motto?
▷ "Life is like a game of chess. To win you have to make a move."
• Does your name have any special meaning?
▷ I've found this one … Not 100% true, but quite true anyway… LOL
Secretive and reserved, Martina  is introverted and wary by nature, and tend not to open up very easily. Emotional and sensitive, they do their best not to let their deepest feelings show on the outside. One would be forgiven for thinking that they are cold, aloof and distant, or even heartless! However, nothing could be further from the truth, because she is actually a little lacking in self-confidence, while sceptical and somewhat pessimistic, Martina doesn´t believe in luck, and is convinced that one must create one´s own favorable circumstances. This is why she tends to externalize through their work, where she proves herself to be attentive to detail, perfectionist, hardworking and determined, as well as capable of investing themselves heavily in her career or studies, even to the detriment of the other areas of their lives. Thoughtful, cautious, thrifty, egocentric, level headed but also loyal, she is quite rigorous where her principles are concerned. Nonetheless, another aspect of her character leans towards fragility, submission, inferiority, dependence, shyness and anxiety, although these tendencies are more pronounced during childhood where the maternal environment is a key determinant. [**Where did you find this? It's a pretty much accurate description. I would like to read mine!**]

• Favourite genre of music? Name your favourite singer or band
▷ I like Italian music (Renato Zero, Elisa, Giorgia, De André…), pop and rock music (Aerosmith, Queen are definitely among my favorite groups …) and very particular music styles as Gothan Projects'. I like discovering new groups/singers/songs though!
• Best concert ever you participate in. Name the band/singer and the place.
▷ When I was younger, I was a big Renato Zero's fan but now it's much harder for me to attend all his concerts. 😉 On a completely different note, one of the latest events I really enjoyed taking part in was the Gent's Festival in Belgium. A huge 10-days festival with many different kind of music genres, bands and open air stages everywhere in the city. Gent is also my favorite Belgian city so it is always a great pleasure for me to go there.
• Can you share a song that is important for you?
▷ Amico by Renato Zero
• Favourite tv series – if you have one
▷ Friends is my favorite series of all the time!.
• Favourite film – if you have one
▷ Seven, Il Marchese del grillo (no, there is no connection between them. Call me eclectic! 😊) and many others… but you'll kill me if I list them all. 😊
• Favourite actor and actress
▷ I have many, for different reasons: Javier Bardem, Will Smith, Jeff Bridges, Denzel Washington, Robert De Niro, Dustin Hoffman. Meryl Streep,  Emma Thomson, Cate Blanchett… just to name some.
• Celebrity crush
▷ I was so deeeeeply in love with Patrick Swayze (in Dirty Dancing) when I was a teenager.
• If you were a Disney character, which one would it be?
▷ Merlin the enchanter. 😊 The Sword in the Stone and Alice in Wonderland were my favorite Disney cartoons.
• Do you like musicals? If yes, which is your favourite one?
▷ I'm not a big fan of musicals. Still, I enjoyed watching My fair lady, Hair, La môme and basically all Tim Burton's movies. 😊

• Have you got anyone inspiring you? If yes, who is your role model?
▷ My father has always been an example to me, from a personal and a professional point of view. He taught me (without even noticing, I'm sure 😊) how to be a hard-worker, a reliable and honest person. Today, I follow many inspiring personalities in the translation industry and try to learn from them (Marta Stelmazsak, Valeria Aliperta, NYA Communication, just to name some). They're young, successful and determined and they are a clear example that "volere è potere". 😉
• Describe yourself in 3 words
▷ Only 3… but I've said that I'm not good at synthetizing! 😊 Let's try anyway… I'm proactive, dynamic and also a bit antsy by nature –but all the translators are, right?–. 
• If you could leave right now, where would you like to travel?
▷ Ohhh… Latin America! (I just traveled a portion of Argentina… I've not finished my tour yet! ☺)
• Write something about yourself you are truly proud of
▷ I was able to finance my studies without asking my parents to back me; I came to France to start a new life with just some euros in my pocket and a lot of positive energy and I succeeded and finally, I am the happy mum of 2 bilingual children (yeah!). These are just some of the things I am proud of. Nothing unique, of course, but for me, it wasn't always easy and I am happy to tell myself: you've made it (so far)! 😉 Of course, nothing must be taken for granted and either on the private or the professional side, we always need to keep going, do our best and learn something every day!
• Give an advice to your younger self
▷ Don't rush into things but don't waste your time either! Procrastinating is never a good choice –I mean, as far as big important things/choices in life are concerned–. "Later" sometimes is too late (or simply doesn't exist)! One more thing, little girl: always trust your guts feelings and your heart!
• Have you got any tattoos? If yes, has it/have they any meaning?
▷ No, I have no tattoo.
• Where would you like to live?
▷ I've always been intrigued by Barcelona.
• If you were on a desert island, what would you bring with you? Name three things and say why you would picked them.
▷ Am I supposed to be left alone on that island?? Well … in that case, I'd pick:
1. My latest book/my e-book reader –Can't live without books!
2. A scarf and a jacket –what if there is a windy day on the island? 😉
3. Food! – I need to eat, before becoming an expert in fruit-picking, fishing and hunting! 😉
4. My smartphone… you've said 3 things… Really? 😜 [ ** I make an exception for you! You can name 4 things 😂  hahahaha ** ]

• If you could meet an important/famous person, who would he/she be?
▷ Antoni Gaudí –That guy was simply a GENIUS … ok, ok, together with Leonardo Da Vinci!
• What would you ask him/her?
▷ Could you build a house for me, pleaaaaaase!!!!!! LOL! 😂😂😂
That's amazing, Martine! You are so lively and you brought l'aire de vivre here. Thank you so much, we – not only me, but our readers as well – really needed it. I am so happy that you have taken part in the series, because I always look for inspiring, strong, positive people and you definitely are one of them. This means that I chose the right woman. Thank you for sharing your life, your wishes, and your fears – which are important, too. I truly believe that anything happens for a reason, so I am quite sure we are going to meet again (and meet up soon!). Stay honest and fresh as you show us along the week: these are valued features!
Thank you so much for saving time for having a chat over coffee with me!
If you enjoyed the second part of the interview, share it on social media using the hashtag #guesswhonesec and leave a comment.
Want to take part in the series? Just drop me a line and I will invite you to join me for a coffee.
Who's the next  guest to be on the "Guess who comes" series?
Let's find out next Tuesday.
~Cee
---
Who's Martine? ▷ Martine (from Moretti Translations) is a professional EN/FR/ES into IT freelance translator and a liaison interpreter. She translates in the following fields: marketing/commerce, tourism, cosmetics, pleasure boats/sailing, banking, domotics. She obtained a MA in Translation and a University Degree in Foreign Languages. Martine is a compulsive reader, a traveler –she hopes to win the lottery to be able to make a world tour– with a passion for foreign languages, music, volleyball, fine cooking and anything related to the Spanish culture and language. You can find her on Facebook, Twitter, and LinkedIn.